The Google Analytics Alternative
Discover the origin of your users and the pages they visit.
Gain insights into your sources of traffic. Nepcha is a easy-to-use web analytics. No cookies and fully compliant with GDPR, CCPA and PECR.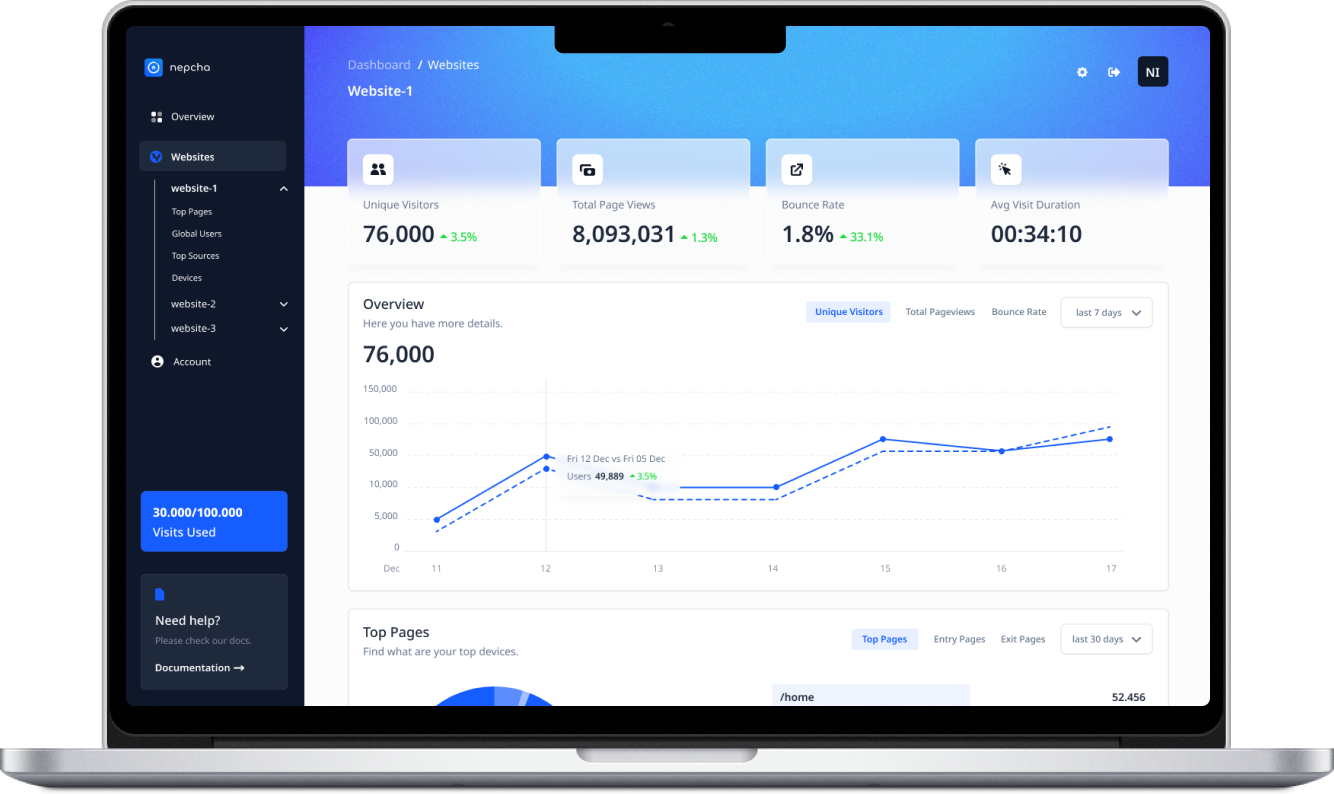 Quick and Easy to integrate
Just one line of code for your website and you're set. No expertise required. Start tracking users in minutes.
Own and Control your Data
We keep stored information in individual data-centers, and we don't do cross-continent sharing. Full compliant with GDPR, CCPA and PECR.
Keep your Site Fast
Rest assured, Nepcha's global network and small script size (2KB) keep your site running at top speed.
2 Minutes Setup
Essential traffic data in real-time
Observe your visitors updating in real-time and gain insights into user behavior as they navigate your site. Check your top sources of traffic, countries and cities.

Instantly see if your users come from Mobile, Tablet or Computers.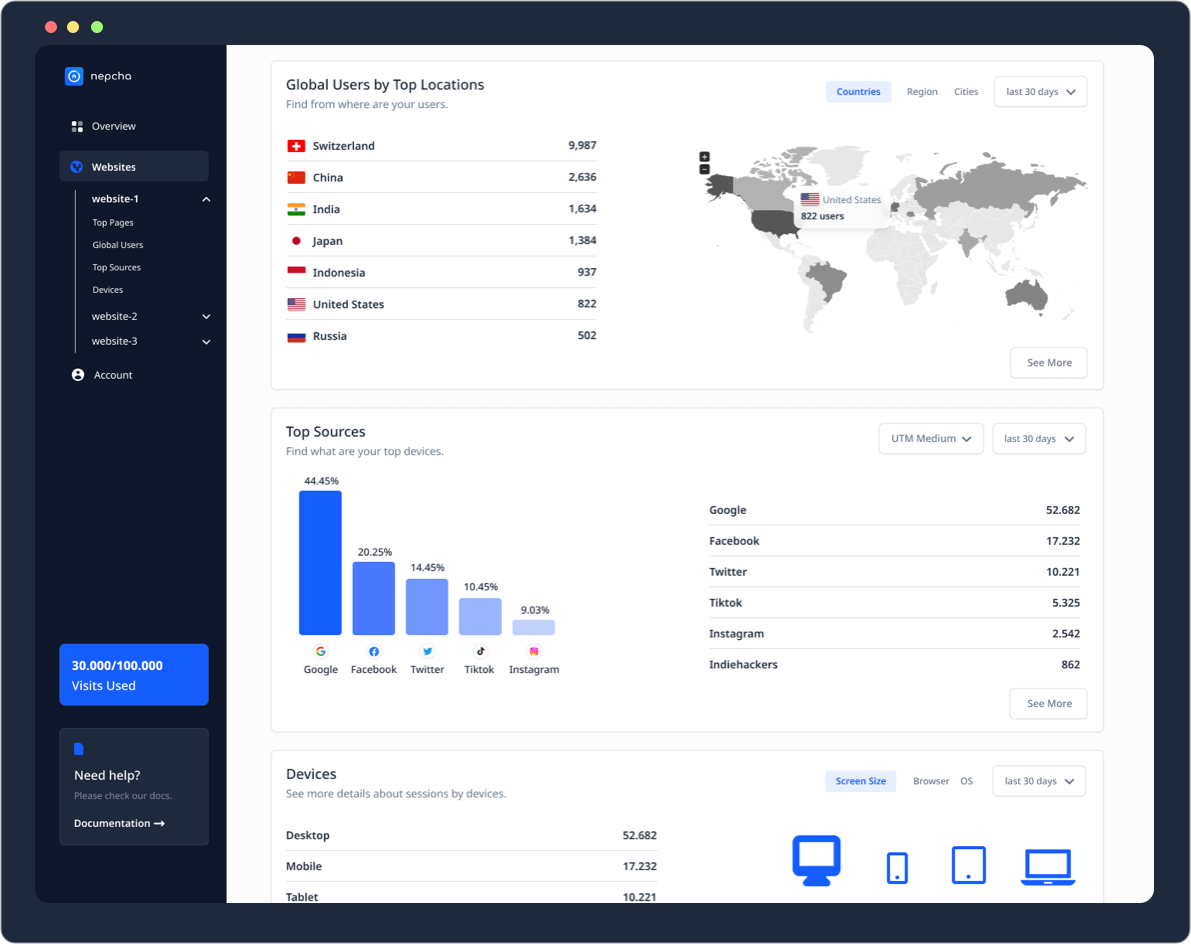 30x Smaller Size than Google Analytics
Lightweight script and user-friendly setup steps
Our script is 30x smaller in size compared to the regular Google Analytics. Your page speed and loading times will not be affected at all.

Our simple installation steps will have your website ready to process data in minutes.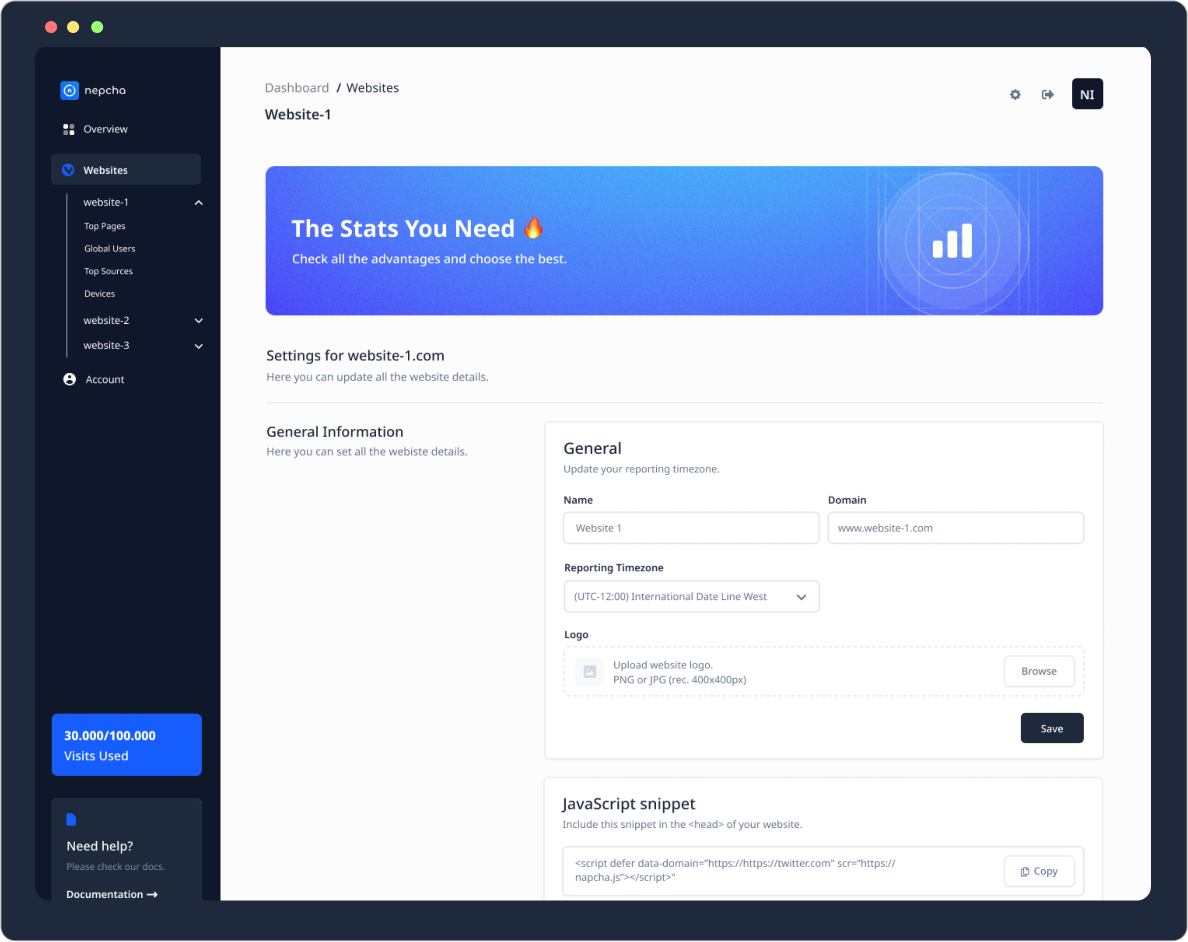 No cookies, no problems
No personal data is collected, and the use of cookies is avoided.
We've built Nepcha with the end-user in mind. We don't track any personal details and we cannot identify the users.

We respect the privacy and we don't sell data to any 3rd party provider.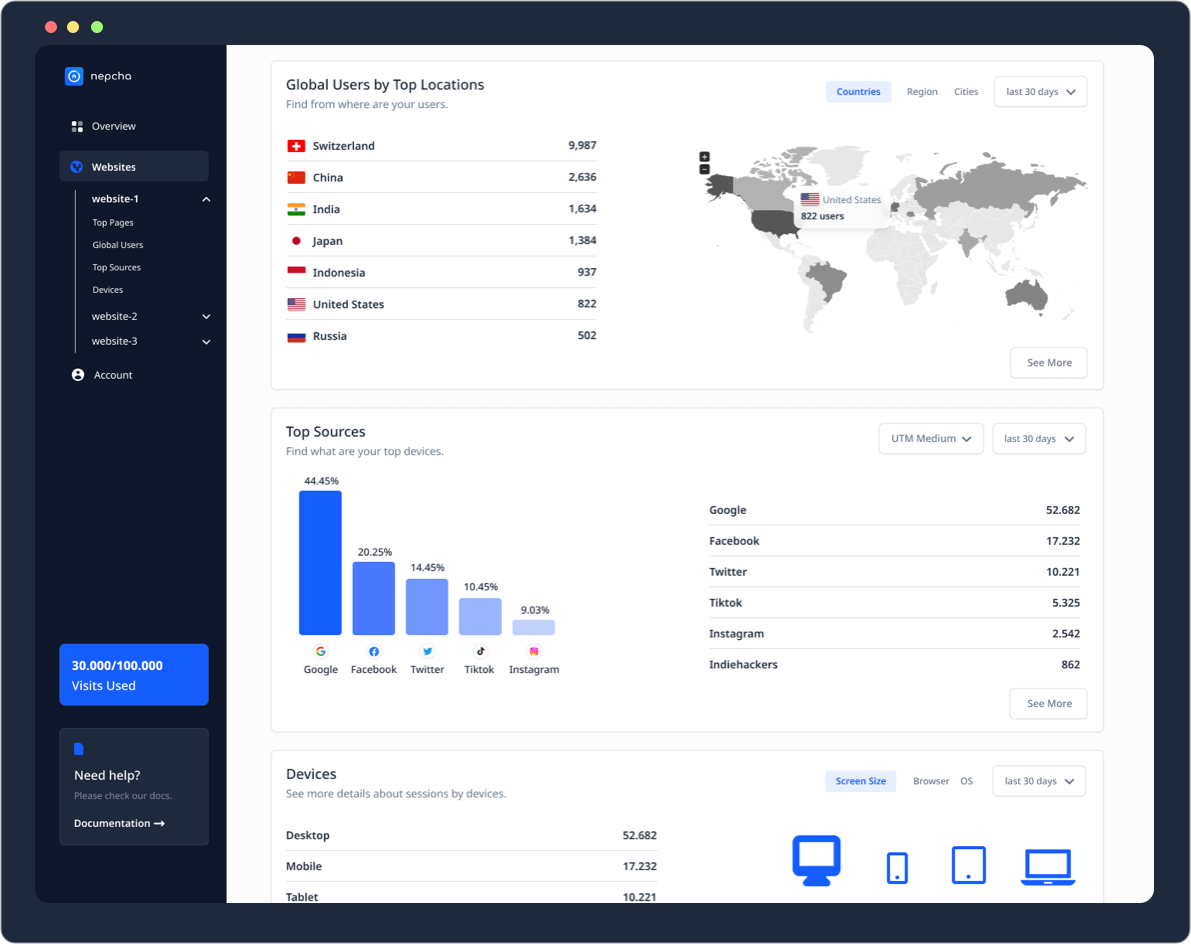 Simple charts & Data Visualisation
Start tracking up to 10.000 visits on multiple websites for free. Share stats with your team in a beautiful way.
Free Signup What our customers say
Why freelancers, startups, companies and governments love us
Eugen Tudorache
CTO @ UPDIVISION
As a web development agency, we launch numerous websites and apps for our clients every year. It's crucial for us to stay updated with cutting-edge technology, and we've discovered Nepcha to be a powerful resource for website data analytics.
Alexandru Paduraru
CEO @ Creative Tim
Here at Creative Tim, we supply over 2 million developers worldwide with UI tools like admin dashboards and UI kits. To make the most informed decisions, it's essential to rely on accurate data sources. That's why we've chosen to transition to Nepcha for our analytics needs.
Rares Toma
CEO @ Loopple Technologies
Our team is dedicated to developing one of the most intricate low-code/no-code browser editors available. We were drawn to Nepcha for its elegant simplicity as an analytics tool, and we couldn't be happier with our choice to include it as part of our offerings for our customers.
Pricing
Choose Your Favorite Plan
Join thousands of people who base their decisions on Nepcha Analytics.
FAQs
Frequently Asked Questions
Have Questions? We are here to help, chat to our friendly team via [email protected]
There are several reasons for using an alternative for Google Analytics and the most important is the fact that Google collects a lot of data about your users and can use them for other purposes - this can look privacy-invasive. Also, Google Analytics is hard to use, difficult to understand, and very slow to load.